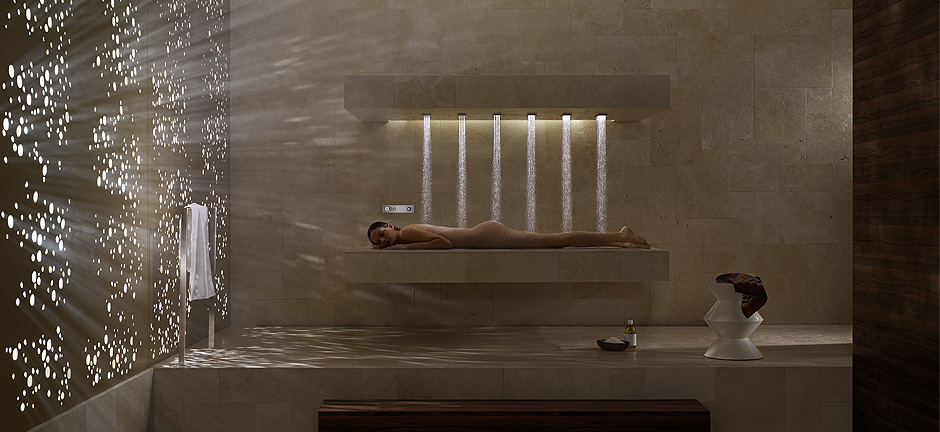 Last week I got to check out an innovation in shower design, the new horizontal shower by Dornbracht. It features six shower heads that are installed equidistant in a lowered soffit. The soffit is parallel above a bench that creates a bed for the user. The six heads each release 2.5 gallons of water per minute, which is a standard volume although you usually have one head and not six. The unit has a keypad that controls the volume, temperature and "scenarios." The scenarios are three different setting options that provide a unique multi-temperature and pressure experience for the user. There's "balancing," which is similar water pressures and warm temperatures, "energizing," which is a mix of hot and cold and "de-stressing," which is mostly hot. The mix of temperature and pressure in the six shower heads all working together is touted for its hydrotherapy benefits.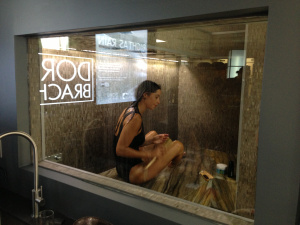 This particular installation I saw at Snyder Diamond's Santa Monica showroom includes a large rainforest shower head and a hand shower. The L- shaped marble bench and floor are heated for added comfort. The large rainforest shower head offers the user the option of a standard "vertical" shower as well. It releases 12 gallons of water per minute, so this is definitely not a water conserving fixture. Watching the model lather up, I'm not sure how comfortable it would be to shower in that position but I'm sure it's extremely relaxing to be able to lay on the heated bench and have all those shower heads going. This shower installation could offer the disabled better useability since it not only includes a bench and hand shower, but a larger space to sit or lay on and closer access to an overhead shower head. However the price tag on these units is rather high, so it's not a unit most could afford.
Here I am with the guys who made this possible: Russ (top right) owner of Snyder Diamond; Jim, (left) the plumber; and Larry, (right) the contractor. Jim went to the Dornbracht headquarters in Atlanta to learn how to install this shower, he is currently one of very few that know how to install such a detailed system.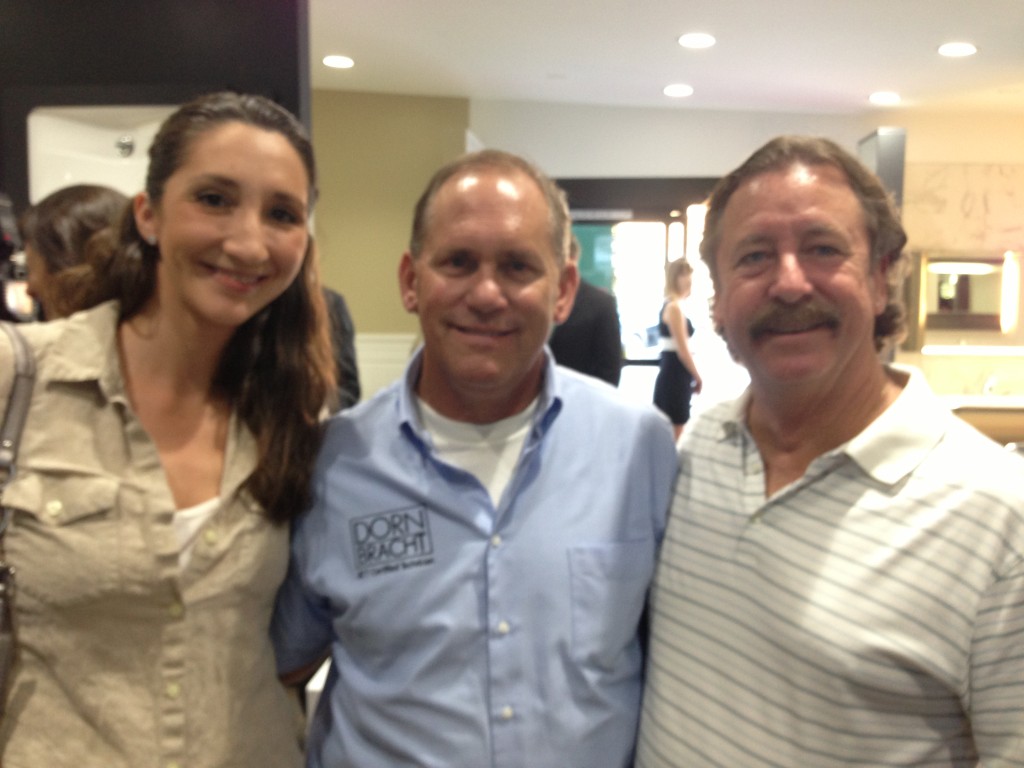 What do you think about the horizontal shower? Would you want one in your home?
*Top photo by Dornbracht*  /  Originally posted on KellyManasDesign.com