Peter and Gerry speak
Call it a blog, call it a journal — whichever you choose, this is just a little impromptu forum for the three of us to share our thoughts. Some of it may be on kitchen related issues or even causes and events we hold close to our hearts. The most important thing will be our ability to regularly communicate with our customers.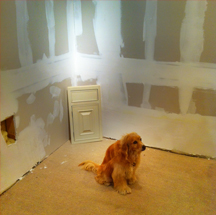 Posted by Gerry on August 27th, 2012 | Comments (0)
We are so happy to announce that work has begun here at our showroom on our new display featuring Crystal Cabinet Works! We have had so much interest in this terrific custom product, so the new display should provide a great opportunity for our visitors to see the fine craftsmanship of this beautiful cabinetry. We will keep you up to date on our progress…be on the lookout for more images soon!
- Needless to say, Scout can't wait for the new display -